Christmas happens and this game is about as Christmas as you can get
Another year and each time, I feel like the Christmas special gets a little more special. We were bound to review the Christmas NiGHTS into Dreams demo at some point and to celebrate 20 years of Sega Saturn and to show my appreciation for one of Sega's greatest franchises, NiGHTS into Dreams.
One of the primary reasons to check out Christmas NiGHTS on the Sega Saturn (opposed to one of HD re-releases) is the chance to unlock Sonic into NiGHTS. This is the first ever polygonal 3D appearance of Sonic on the Sega Saturn and for a simple re-skin, it's got its issues but was still very cool to see.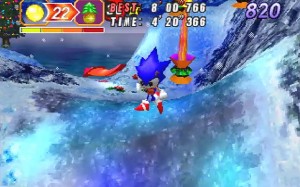 The Sega Saturn was certainly a tumultuous period for Sega and one of the biggest holes in the library is a dedicated Sonic the Hedgehog platform game. There's plenty of stories from the era, including internal issues at Sega. All things considered, the 3D engine found in NiGHTS into Dreams was rather impressive,this demo gave me a great reason to check it out and it was easy to see (especially with Burning Rangers using the same engine years later) how a 3D Sonic game could have been totally fleshed out if the circumstances within Sega aligned better.