Since you're reading this, then it's very likely you and I survived the Black Friday weekend. Go team. But while we were basically looting and pillaging our local Old Navy and Best Buy stores, League was undergoing a number of changes in numerous places. And they were doing this while hosting their own Black Friday/Cyber Monday event as well (I actually restrained myself and bought only two mystery gifts this time — yay me). With the departure of two veteran casters, Japan's League scene rising, a merchandise store coming soon, and so much more, there seems to be a lot going around the rift this week. So let's tower dive into it!
---
FREE CHAMPIONS FOR THE WEEK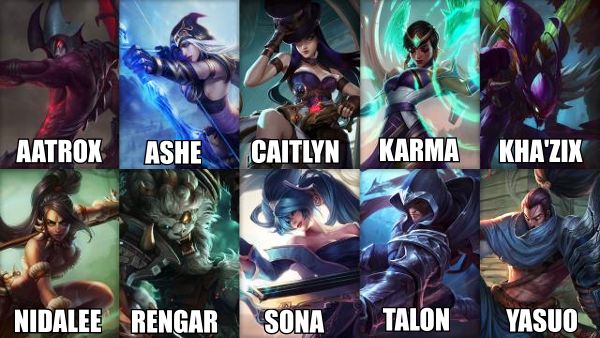 So this week we got some great beginner ADCs, some great (but difficult) junglers, and some uncommon picks as well. But what surprises me the most is that Kalista isn't in this week. Usually when a new champion comes out, they're on the free champion rotation two weeks from their release. Perhaps she is suffering from Azir-itis and must under go a bit of a check up before she can be used by free-to-play people. Anyway, let's see who I can recommend for this week.
---
GERON'S FIRST RECOMMENDED FREE CHAMPION: AATROX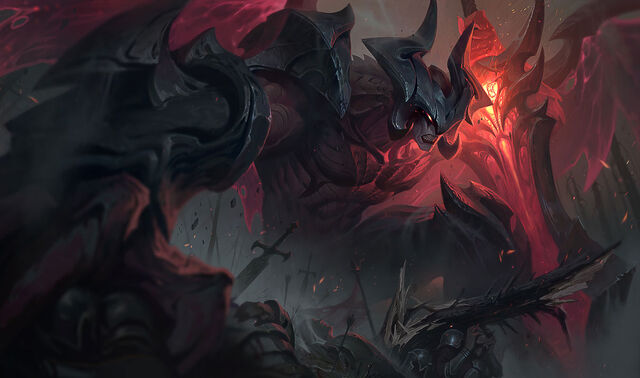 COST:
6300 IP or 975 RP
POSITION:
TOP-LANE/JUNGLE – FIGHTER/TANK
WHY:
Already a welcomed favorite in EU but gaining traction in other regions, Aatrox is a go-to for this week if you are looking for a tanky jungler with lots of damage. He also excels in the top lane but has been finding a new home in the jungle. With the recent changes in the jungle for this upcoming season, Aatrox was welcomed with open arms to those who like to gank but have lots of sustain. Add in his passive and you will have a wonderful time in team fights.
---
GERON'S SECOND RECOMMENDED FREE CHAMPION: KARMA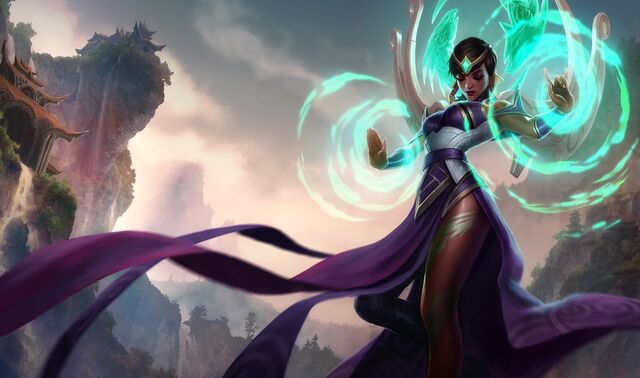 COST: 3150 IP or 790 RP
POSITION: BOTTOM-LANE/MID-LANE – SUPPORT/MAGE
WHY: With poking support champions (like Nami and Sona) being welcomed in the bottom-lane, people forget that Karma is a wonderful support champion with lots of harass and poke as well. And while she might be overshadowed in that role, she can be a dominate force in the mid-lane (as seen in early season 4 matches). So if you like a mage-support that can keep your enemies as bay, Karma is a decent pick for this week.
---
GERON'S THIRD RECOMMENDED FREE CHAMPION: YASUO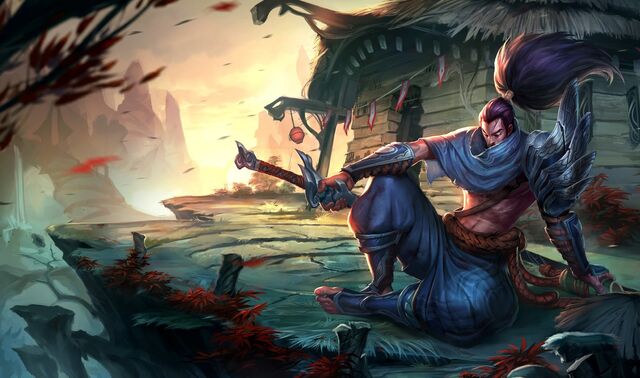 COST: 6300 IP or 975 RP
POSITION: MID-LANE/TOP-LANE – FIGHTER/ASSASSIN
WHY: While he may not be the most difficult mid-lane champion of them all, he does take some effort to get used to. But it's worth the investment of time and patience. Once you get a grip on him and start building crit on him, you can pull off some great plays and some nifty tricks. Just make sure to be patient but also aggressive when the time comes to strike. If you are looking for a high-investment but high reward mid-lane champion, Yasuo is who you should try out this week.
---
RIOT TO OPEN

A MERCHANDISE STORE!

(because why spend your money only on skins?)
Recently, Riot's own RedBeard and his team jumped onto their forum boards and updated everyone with a small questions-and-answers segment about Riot's upcoming merchandise store. This is what they had to say about the store:
"Hey everyone! We're glad you could stop by to chat with us. We know that many of you have been excited about merch for a while now, which is why we're excited to finally share our plans to soon launch a beta version of the Riot Games Merch Store. We spent the past year building a team specifically dedicated to creating merch and developing an experience that we hope resonates with all of you as League of Legends players and fans.
Today I'm joined by Bradmore (our director of merch) and Riot Tocelot (aka JLeezy, our senior manager leading our store efforts), and we're going to share some info around our plans for the future of merch and also talk about some of the decisions we made when we kicked off this whole journey. This'll include why we created a new merch store, why we're launching in beta and what to expect if your region is not part of the initial beta roll-out. We also want to talk about a few of the items we plan to launch with and how some of that merch came to life. So let's get rolling… ask us anything!"
During the session, questions from the audience were asked and were immediately answered. Here are some of the questions that are likely on everyone's mind.
Why is it "beta"?

– Riot wants to see how things work out in order to improve it for the future.


When is it coming out?

– Real soon. Around a few days to a week or so.


What regions is it for?

– Global. All regions will have access to the store.


Average price?

– Expected wide range but shirts and poro plushies will be around $25.


Can we use RP?

– Not at the moment but Riot is looking into doing so.
For further details about this upcoming merchandise store, check out their Q&A session on the League of Legends site.
---
RASCAL JESTER:

JAPAN'S RISING LEAGUE TEAM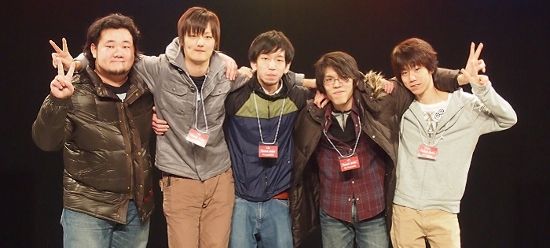 With the rise of e-sports in Asian countries, it was a rather weird mystery that Japan wasn't a flagship country to represent the region like it's neighbors Korea and China. Mainly people thought Japan was a console-based gaming country since it is home to Nintendo and Sony. But that's not really true as their PC gaming culture is just as strong, but is always overshadowed by other countries. However things might be changing as just
a few weeks ago, the Japanese PC gaming scene hit a new milestone when Rascal Jester (one of Japan's rising League of Legends teams) announced they would be moving into Japan's first ever dedicated pro-gaming house after signing a sponsorship with the company CROOZ. Because of this milestone, Rascal Jester has been gaining popularity and could be the start of Japan being a player in the region that is dominated by Korea and China.
Recently, LOLEsports did a piece on the team and their views of the gaming scene and what their goals are in the future. You can check out their piece on here on LOLesports.com.
I've been actually following of Rascal Jester a bit and checked out their streams on Twitch. I find it weird that there are doubts about this team because everyone thinks that they'll be overrun by Korean and Chinese teams. Well if you did a bit of research, while Japan doesn't have their own server (Riot will be giving them one in 2015), Japanese teams have been playing on both the Korean and the Chinese servers. Also not many people know that Japan hosted a lot of offline tournaments and from what I seen, Japan can roll with the punches. I don't know if Japan will get their own organization to compete in, most likely they'll be ushered into the SEA region's league, GPL or go for the International Wildcard. But I hope to see more good things for this rising team.
---
THE ESPORTS WEEKLY
– While the NA LCS Expansion tournament is on hold, the EU LCS Expansion tournament is catching up. This week, the remaining eight teams competed for the spots in the final four tournament.

–H2K Gaming goes 2-0 with Meloncats – Only one game was officially played due to one of Meloncats' team member's technical difficulties, causing the team to forfeit their second match.
–Reason Gaming goes 2-0 with Different Dimension
–N!Faculty goes 2-1 with Gamers 2
–GIANTS goes 2-1 with Millenium – Amazing upset as Millenium was the favored to win due to being in the EU LCS and having flown in two professional Korean gamers to join their team.

CURRENT EXPANSION TOURNAMENT STANDINGS:


EU LCS
– Giants Gaming
– H2k
– n!faculty
– Reason Gaming
NA LCS
– Final Five
– Coast
– Fusion
– Curse Academy

JOE MILLER AND DEMAN LEAVE THEIR EU LCS CASTER POSITIONS TO JOIN ESL

– In a surprising change of events, both the EU shoutcasters for EU LCS games, Joe "Please Don't Call Me 'Joe and Leigh "Deman" Smith have left their positions at the LCS to join Turtle Entertainment (ESL). The main reason for this change is to start up their own team of commentators instead of just being a part of one. I wish both of them great luck in the future.

– In other commentary news, Sjokz has joined Riot's European branch. Likely she'll be taking over the spots left open by Joe Miller and Deman.

– Riot's Oceania branch will be changing it's competitive scene in order to reflect more of the other organizations like the NA/EU LCS. They will include changes like challenger series, open ladder series, and many more.

– Evil Geniuses' top laner will not be re-signing with the team and will take time to focus on becoming a mid-laner.

– SK Gaming have finally completed their roster and have announced their official team line up.

– Ex-Samsung White player Pawn has been picked up by the Chinese team Edward Gaming.

– Flame has left his organization CJ Entus. It is unknown at the moment if he's been picked up by a domestic team in Korea or is being offered a position in another team in another region.
---
And on the lighter side of the Rift…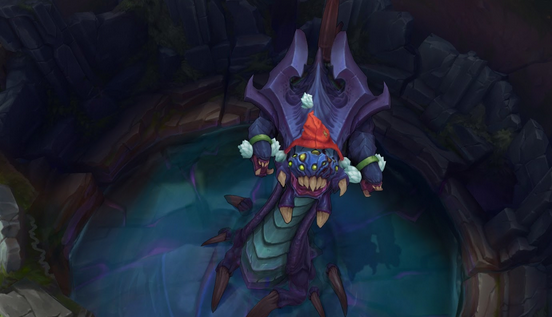 And ending on a lighter note this week, while the new Summoner's Rift map is too new for a winter skin, Riot decided to share in the holiday cheer by giving Baron Nashor a Santa hat and ear muffs to wear in the upcoming weeks. While it's currently only seen in the PBE, it's likely to be live on regular play within the next fewweeks. Because nothing says "Merry Christmas" like a giant purple tentacle monster that spews death and decay while wearing ear muffs and a jolly old Saint Nick hat.