As long as I can remember it seems like I witness a lot more sports rivalries than your average human being. I mean I can't count how many Cubs and White Sox games I've been to, the same goes for Bulls and Knicks games and whenever I did go to a Phoenix Coyotes game they'd be going up against the LA Kings. Well add another big rivalry witness game to the list because in eSports, I and many others witness another big rivalry match between TSM and CLG. And if that wasn't enough drama, there's more drama going on and off the fields of justice, especially the sudden announcement of Piglet being benched. But before we dive into "Days of Our Lives: the eSports Edition", let's focus on this week's free champs.
---
FREE CHAMPIONS FOR THE WEEK
Once again Riot is giving us another slew of champions not highly picked for their free champion line-up. Variety is always good. Too bad it's likely no one is going to pick Evelynn this week because she's been nerfed in the past and she doesn't fit well in the new jungle. But still, lots of goodies for free. Let's see who I can recommend.
---
GERON'S FIRST RECOMMENDED FREE CHAMPION: BLITZCRANK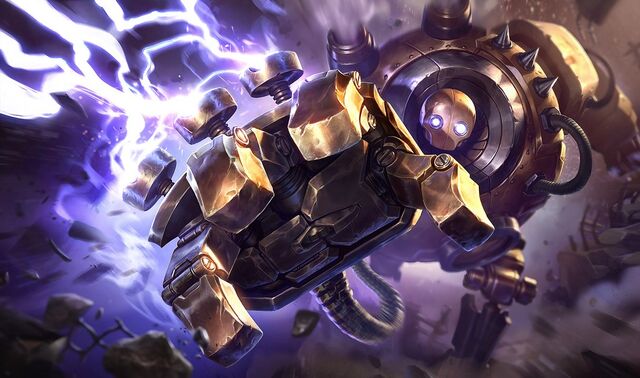 COST:
3150 IP or 790 RP
POSITION:
BOTTOM-LANE – SUPPORT/TANK
WHY:
You know that phrase "if you can dodge a wrench, you can dodge a ball" from the movie "Dodgeball"? Well the same philsophy can be applied with Blitzcrank as support. But instead of of dodging, it's hooking. If you can hook an enemy champion, then you can play support Blitzcrank. Most people getting into support know the fears of being hooked by Blitzcrank, so why not be the one that does the hooking? Just make sure to build him tanky.
---
GERON'S SECOND RECOMMENDED FREE CHAMPION: EZREAL
COST:
4800 IP OR 880 RP
POSITION:
BOTTOM-LANE/MID-LANE – MARKSMAN
WHY:
While Ezreal is in the average when it comes to ADCs these days, he's been picked up most recently at the mid-lane. It seems like there's a branch now in the meta where it's socially acceptable to put in a double AD comp where you can have a ranged ADC playing mid. First it was Corki, now it's Ezreal. Just make sure you make your Trueshot Barrages count.
---
GERON'S THIRD RECOMMENDED FREE CHAMPION: SYNDRA
COST:
6300 IP OR 975 RP
POSITION:
MID-LANE/BOTTOM-LANE (rare) – MAGE/SUPPORT (rare)
WHY:
People are afraid of Syndra because she looks so complicated, but when they actually use her, she's actually quite simple. It may be true that she fell out of favor when it comes to mid-lane mages, but she hasn't been nerfed to death like others. While she lost some power with the removal of DFG, you can make it up with other useful items like Morellonomicon.
---
THE ESPORTS WEEKLY

THIS WEEK IN THE LCS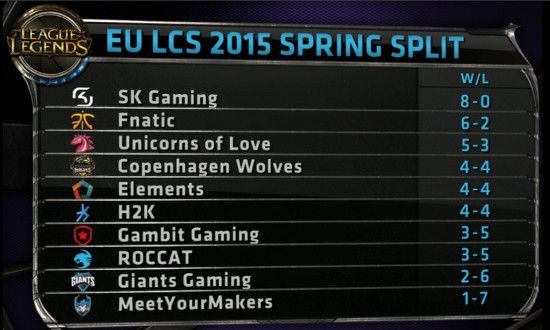 It should be noted that eventually one team has to take down the dominating bulldozer that is SK Gaming. Will it be an upset or will it be one of the top teams like Unicorns of Love or Elements? Also I like seeing that Copenhagen Wolves and H2K Gaming have climbed out of their lower ranks and have now made themselves a new home in the middle of the pack. But will it be like that? Only time will tell.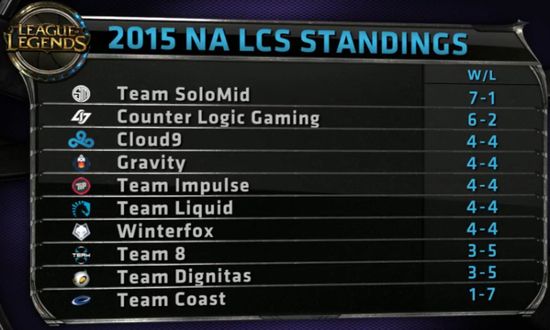 While it was a pretty good week for all, everyone's main focus was on the TSM. vs. CLG match. And instead of just giving a brief talk about that, I've included a special section about it following this portion of esports coverage.
---
TSM VS. CLG 2015

PINK HAIR IS ON THE LINE
Pacquiao and Mayweather, Cubs and White Sox, Chicago Deep Dish and New York Style; there are tons of rivalries I could list off but in the world of League of Legends eSports, the biggest one known around the world is Team Solomid and Counter Logic Gaming. These two teams have been going at it like two wolves fighting over the leftovers of a hunt. Shots have been fired, nexus and turrets have been blown up, and Twitter wars are neverending. But this past week, the rivarly reached a new height as the two teams would clash again for the first time in 2015. But this time things were different.
A while ago Reggie (the owner of TSM) got into a bit of a friendly scuffle on social media with HotshotGG (the owner of CLG). The two used to hate each other in the past because Reggie broke off from Hotshot's team to form TSM. But now it's just reduced to a friendly rivalry between the two and their organizations (the fans are the ones that bring the heat these days). However, the two were trading back and forth until there was a proposal that the upcoming match's losing team's owner would have to dye their hair pink. Terms of agreement were made and thus the rivalry cranked itself to 11.
Come Sunday, the day of the match, TSM and CLG would meet on the fields of justice. While both teams seemed to be quite even in picks and bans, Counter Logic Gaming managed to have a dominating prescence for most of the game. CLG managed to take objectives including several dragons and a Baron Nashor. However, it was coming to a point where TSM was still showing signs of life. There were countless teamfights that would end in even trades. But it was when one charm from TSM's Ahri that barely landed on CLG's Vi, it lead to a massive team fight that would lead TSM on a charge towards CLG's base, securing a win and saving one owner's hair.
All in all a long but enjoyable match. Normally an average LCS game would catch around 250,000 viewers of Twitch but this time around it was around 400,000 – 500,000 viewers. And that's just Twitch, there are other sources like Youtube and Azubu. While I admit I was rooting a bit for CLG, I give my props to TSM for staying around. Both teams gave us a great match.
And as I'm writing this, HotshotGG now has pink hair.
Cheer up, George. Now you can cosplay as Vi.
---
ELSEWHERE IN ESPORTS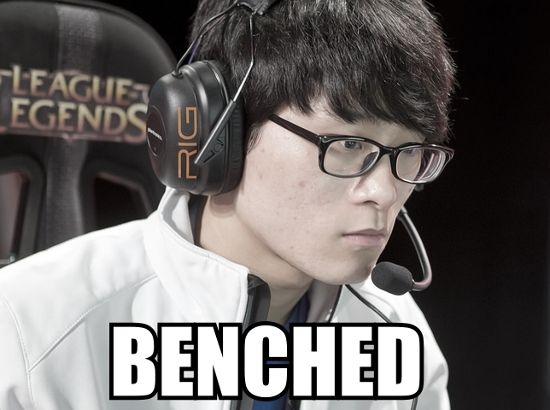 – In a VERY surprising move by Team Liquid, Piglet has been benched by the team management and Yuri "KEITHMCBRIEF" Jew will be standing in again as ADC. Numerous sources on this decision, some say it was Piglets recent underperformance, others say Piglet is having a hard time adapting/communicating. No official word yet on this decision.

– Jesper "Jwaow" Strandgren (formerly of Gamers2) will stand in for Mimer "Mimer" Ahlström as the team's new top laner.

– After weeks of Gleeb being in the stand-in support for the team, Winterfox's new support (Hyeonsu "Imagine" Jang) has arrived after fixing all complications related to moving to America.

– In a sudden surprising twist, Kevin "kev1n" Rubiszewski (formerly of now-disbanded Millenium) will be replacing Mike "Wickd" Petersen on Elements. Sources say that it was a clash of styles of gameplay.

– In an effort to bring the team out of its constant loses, Team Coast is benching Jesse "Jesiz" Le and replacing him with former Vulcun/XDG mid-laner Zachary "Mancloud" Allan Hoschar.

– Raymond "kaSing" Tsang (formerly of Gamers2) has joined H2K and will be filling the support role left by the Erih "Voidle" Sommermann. Sources cite that Voidle left due to style of gameplay clashes with the team.

Just another reminder that the Challenger series is underway. If you want to check out which teams could be the next possible entrants into the LCS, check out the official pages for the NA LCS Challenger Series and the EU LCS Challenger Series.
---
Well that's it for this week. Now I must go to Twitter and offer my cosplay making services to HotShotGG so that the Internet's dream of him cosplaying as Vi will be a reality.